copy Building Extraordinary Teams
Helping teams do their most important yet usually most neglected work: working on the team itself.
We have been privileged to be privy to the inner workings of executive and senior teams in a myriad of industries throughout the Asia Pacific region and we love the challenge of helping these teams navigate a path forward for their organisation and for the team itself.
WHY INVEST IN BUILDING EXTRAORDINARY TEAMS?
The essence of an Extraordinary Team – rather than a group of extraordinary individuals – is that the whole is greater than the sum of its parts, by some multiple. Through our work with hundreds of teams, we have observed that few teams ascend to this altitude and for those that do, few know how to maintain it for long.
Why is this? Firstly, high performance is not a team's natural state. Due to a myriad of forces – both internal and external – constantly pulling in different directions, teams are subject to the 'law of entropy': a tendency towards dysfunction and chaos. It requires a sustained effort to keep entropy at bay. Secondly, unlocking a team's maximum potential is actually a very difficult and nuanced skill. It is not a formulaic, algorithmic task. It is an adaptive challenge.

Reflection questions: What is your team's altitude at the moment? Where do you want to be?
HOW TO BUILD EXTRAORDINARY TEAMS
Our Extraordinary Teams model is how we think about the continuous improvement loop that is necessary to ensure a team achieves and sustains high performance. This model is inspired by our research in psychology, collective intelligence, complex systems and group dynamics as well as our practical experience working with teams for over a decade.
At each stage – CONNECTION, CLARITY, COLLABORATION, COMMITMENT, CAPABILITY – there are reliable principles and repeatable practices that we equip teams to implement back in the their day to day. In addition, there is work we do with teams in the moment – usually as part of a team off-site – to make progress: facilitated alignment conversations, connection and collaboration activities, behavioural simulations, facilitating difficult conversations, capability development sessions and so forth.
The Extraordinary Teams Model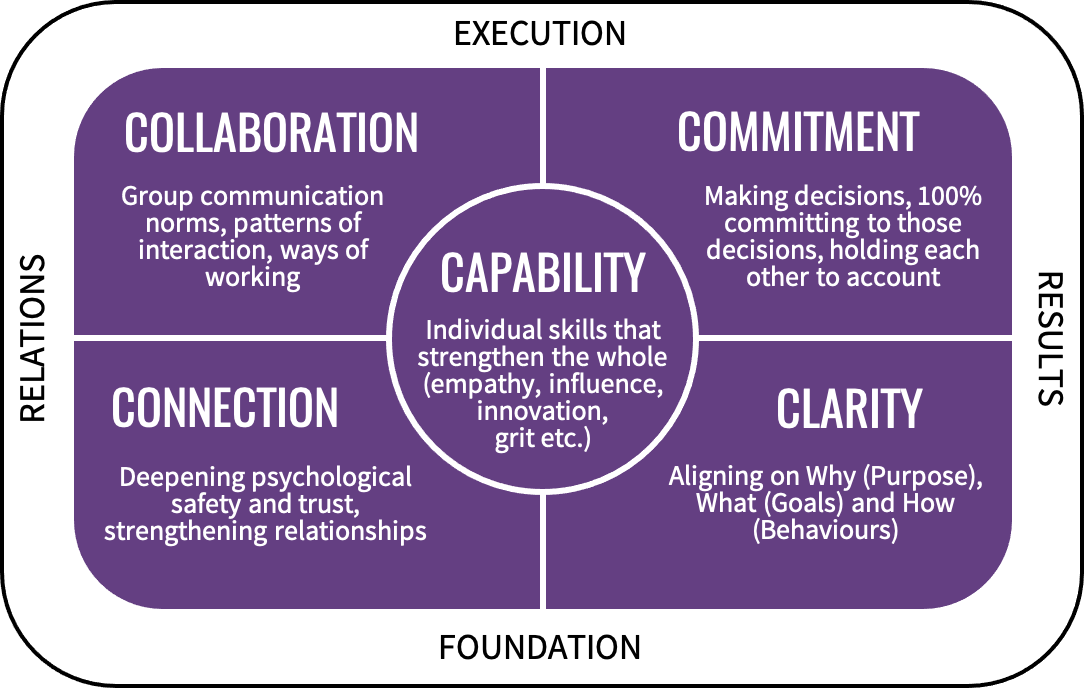 Reflection questions: Which of these five elements does your team do well?
Where do you think the team needs to improve?