Developing Leadership Capability
Sophisticated and inventive programs for Executive leaders, Experienced leaders and Emerging leaders
We are proud that our corporate training helps companies across the Asia-Pacific region – such as Microsoft, KPMG, American Express and LinkedIn – inspire and equip their people with the self awareness, tools and skills to become People of Influence.
The Bad News:
We have surveyed thousands of employees about the state of leadership in their own organisations. When employees are asked who they can think of who is truly inspiring – who is truly worth following – many, many people draw an absolute blank.
Um…that's a bit of a worry!
A leader's job is to get results with and through other people. If this is lacking, it is impossible for an organisation to reach its true potential.
The Good News:
We believe it is possible to learn how to be an inspiring and influential leader. Our job is to unlock that greatness.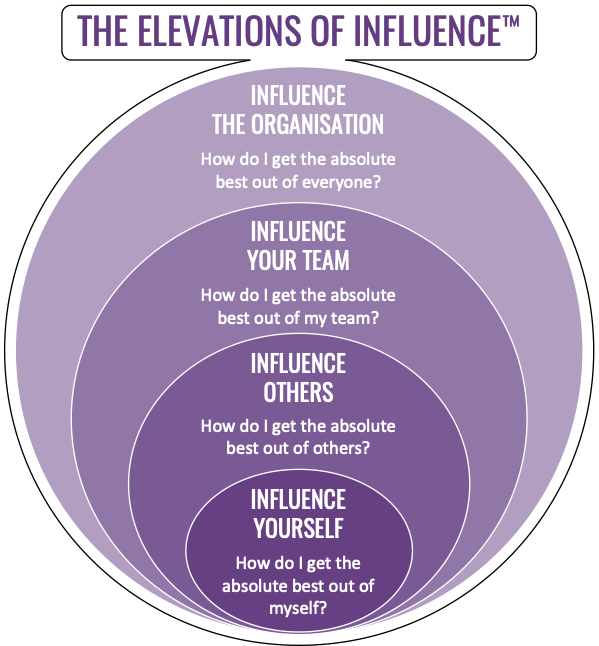 The Elevations of Influence™ model summarises the capabilities we help leaders and their teams develop
FLAGSHIP PROGRAMS
Inventive, impactful programs for each of the Elevations of Influence™
FLAGSHIP PROGRAMS
---
INFLUENCE YOURSELF
THE ANTI-FRAGILITY ADVANTAGE™ – Resilience (bouncing back to where you were before) is not enough. Learn the science of using pressure and adversity to bounce back better than you ever were before.
Inclusion: our proprietary The Anti-fragility Advantage™ self-assessment and personalised report.
---
INFLUENCE OTHERS
THE SMILING OX PARADOX® – We won't believe your message unless we first believe you, the messenger. Learn the science of becoming one of those rare people others are compelled to follow.
Inclusion: our famous The Smiling Ox Paradox® self and 360 assessment tools.
---
INFLUENCE YOUR TEAM
ELEVATING TO EXTRAORDINARY – High performance doesn't happen by accident; in fact the natural state of a team is dysfunction. Learn the five factor methodology for solving dysfunction, moving to high performance and then elevating to extraordinary.
Inclusion: our proprietary Elevating to Extraordinary 360 diagnostic team tool and team report.
---
INFLUENCE THE ORGANISATION
BEHAVIOURAL ENGINEERING™ – Almost all attempts to create behaviour change at scale fail, miserably. Very frustrating! A cutting-edge yet proven methodology for successfully changing behaviour using behavioural economics and neuroeconomics.
Inclusion: our comprehensive Behavioural Engineering™ strategies toolkit for facilitating Behaviour Sprints.
---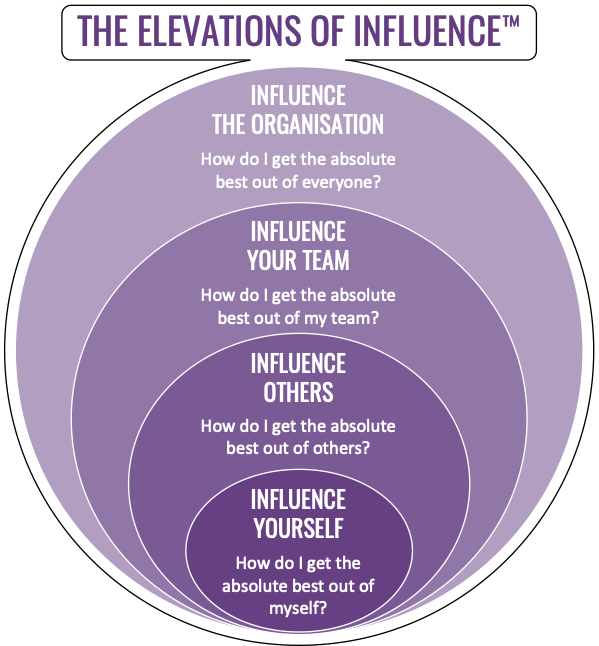 For more information about these (and other) programs please get in touch.
LONGER-FORM LEADERSHIP DEVELOPMENT PROGRAMS
Customised learning journeys for Executive Leaders, Experienced Leaders and Emerging Leaders
LONGER-FORM DEVELOPMENT PROGRAMS
We love it when clients give us the opportunity to collaborate with them on shaping, customising or building from the ground up a longer-form leadership program. These are the sorts of programs that create change. That resonate throughout an organisation. A learning journey that leaves a legacy.
These are also the sorts of programs our clients give names to. Like GPT Group's Elevate program. Or KPMG's Navigate program. Or M&T Resources' The M&T Academy. Or the ServiceStream Aspire and Inspire Programs. Or LinkedIn's EmergIn program. You get the idea!
Below you see some examples of program sequencing for different cohorts. These are EXAMPLES ONLY. Every client has different needs and thus, the program make-up will differ from client to client.
A note on virtual delivery: like all our work these days, these programs can be delivered virtually. This is not unprecedented. For instance, the delivery of LinkedIn's EmergIn program has been almost entirely remotely, as it includes leaders from all across APAC (India, Japan, Singapore, Australia, etc.). Obviously, 2 adjacent days of training are unlikely these days but that's, you know, details!
---
EXECUTIVE LEADERS
For Executives the emphasis is often on INFLUENCE THE ORGANISATION and INFLUENCE YOUR TEAM. It is rare to get an Executive Team in a room for more than a day at a time (even when we were all face-to-face pre-COVID) so this is reflected below.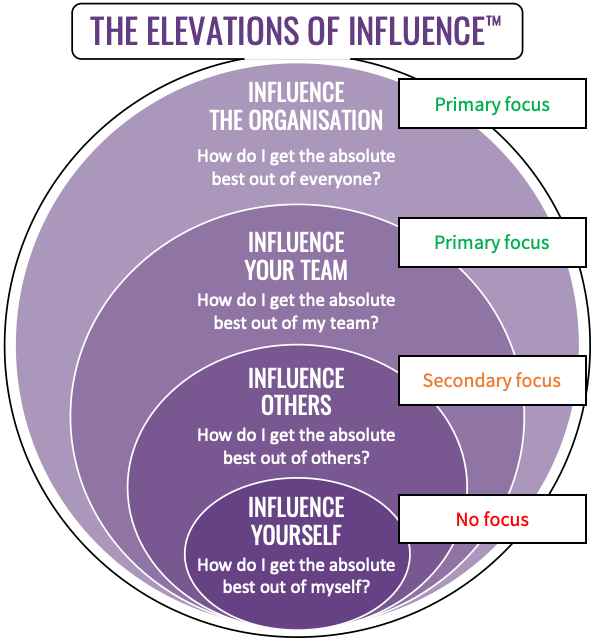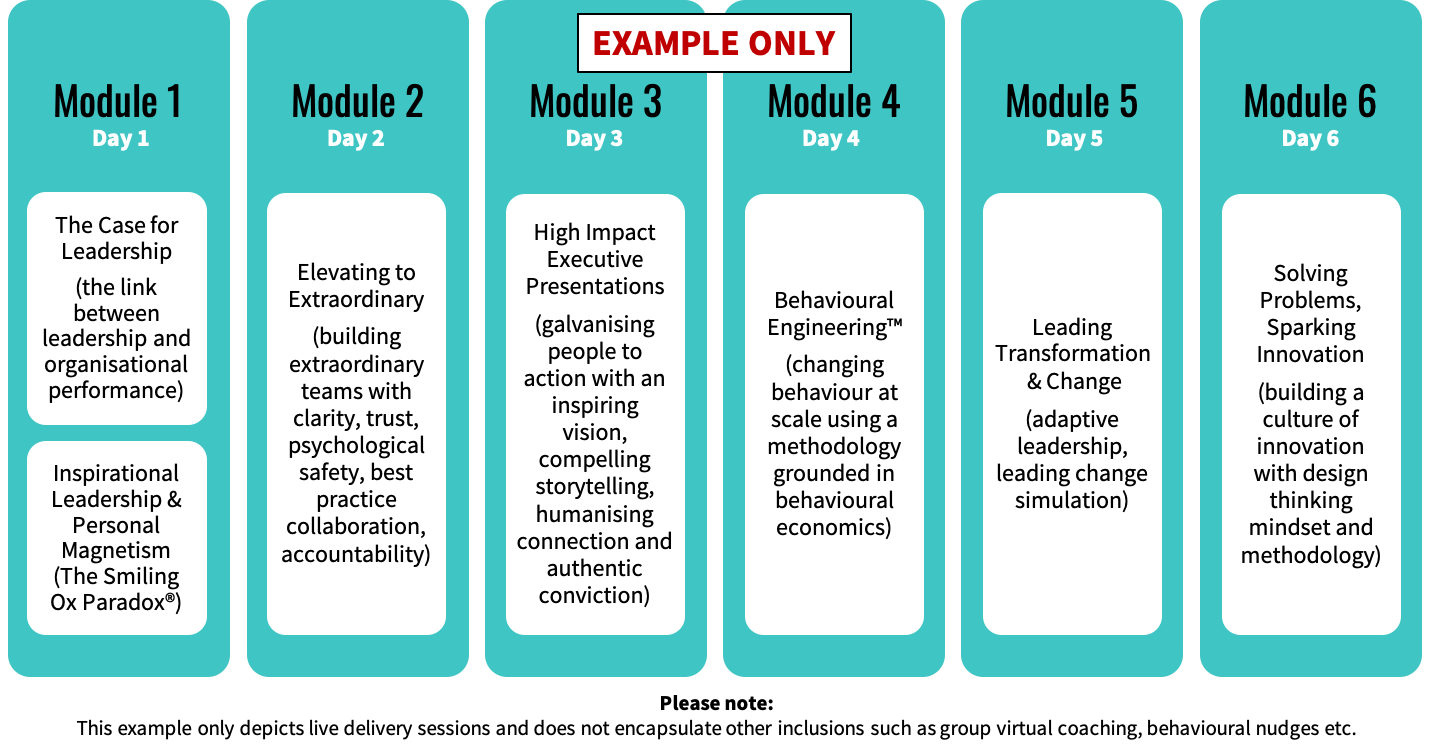 ---
EXPERIENCED LEADERS
For Experienced leaders the emphasis is often on INFLUENCE OTHERS and INFLUENCE YOUR TEAM with some exposure to INFLUENCE THE ORGANISATION. The example below covers quite a breadth of content. Sometimes longer-form programs will cover a smaller number of topics and the focus is on skill mastery (e.g. mastering coaching over a number of modules).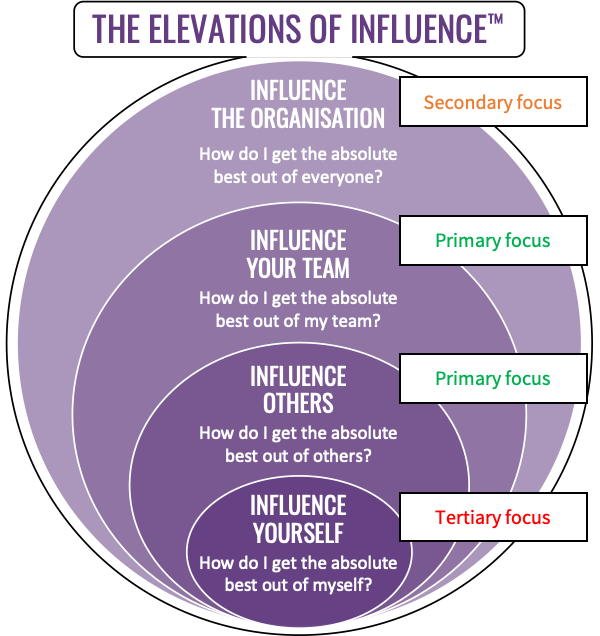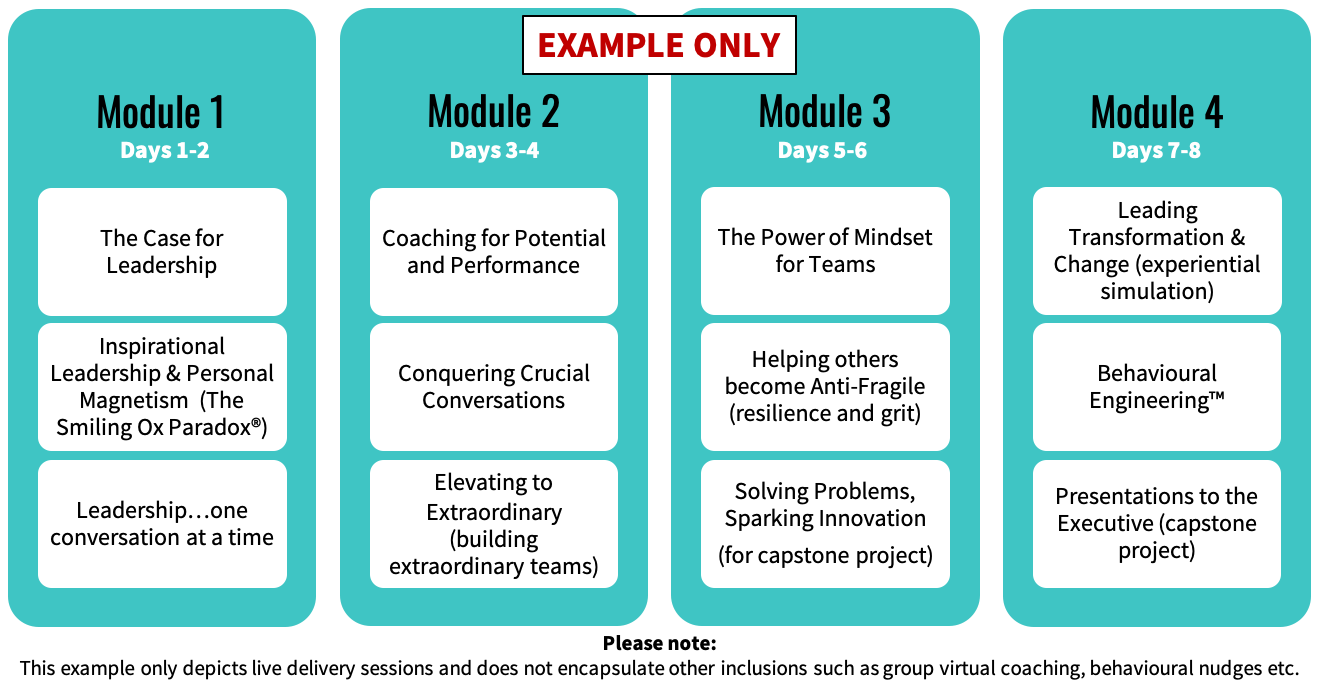 ---
EMERGING and EARLY CAREER LEADERS
For this cohort the emphasis is usually on INFLUENCE YOURSELF and INFLUENCE OTHERS.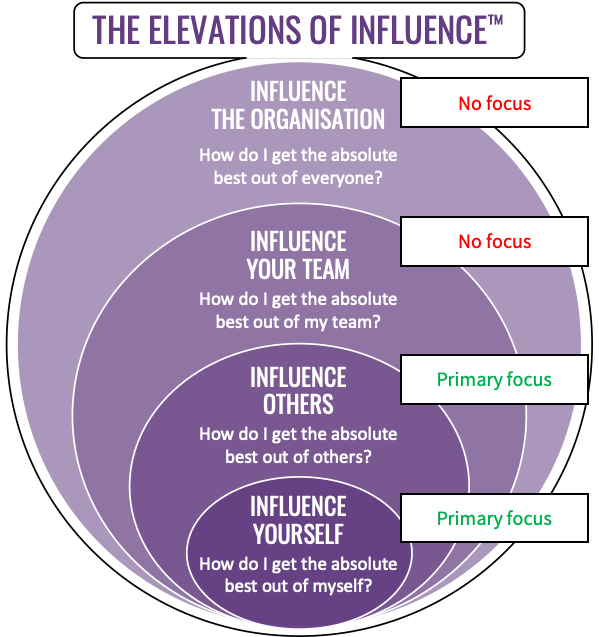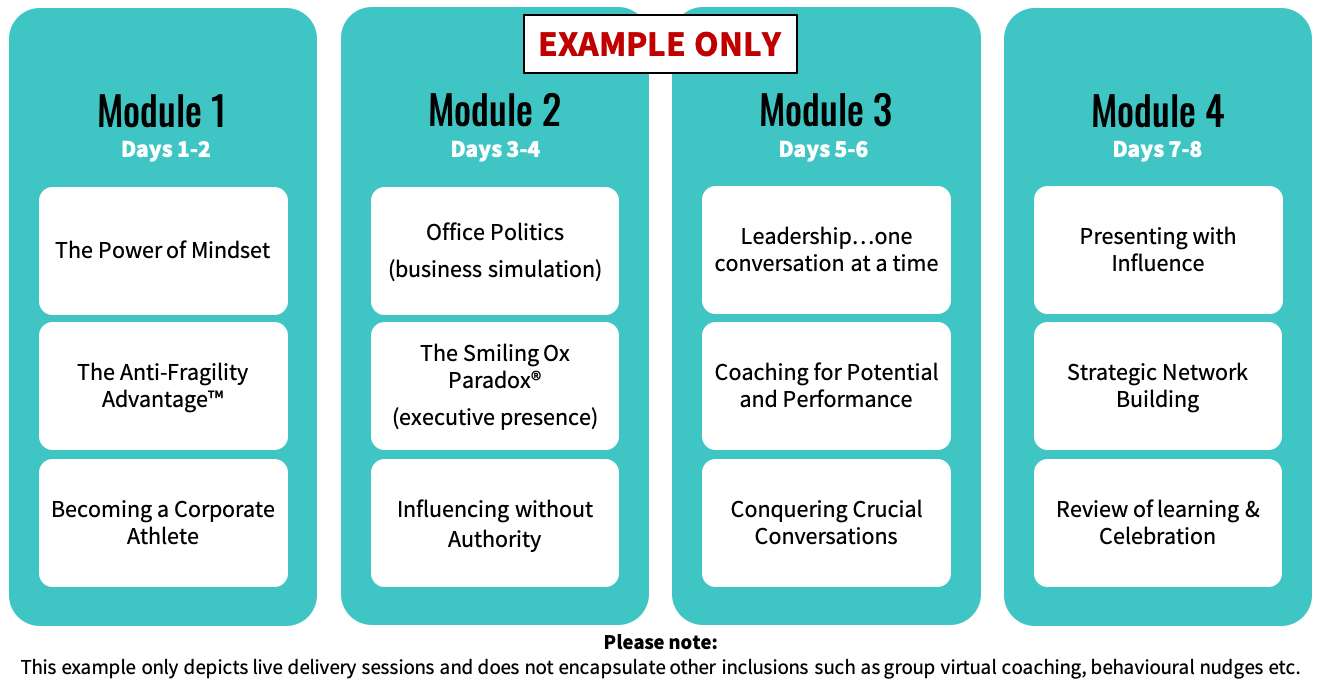 All our programs – whether in modular or more programmatic form – are crafted with the four tenets of our Learning Philosophy in mind. Ultimately, the result we are shooting for is lasting behavioural change that lifts performance.
We craft learning that is:
INSIGHTFUL
Facilitating self-insight and self-awareness with an immersive, experiential approach and through the use of program-specific, proprietary assessment tools.
EVIDENCE-BASED
Backed by the lastest insights from behavioural economics, neuroeconomics, psychology and our extensive experience with clients.
PRACTICAL
Equipping participants with tools they can use for immediate impact. Today.
SUSTAINED
Applying a range of behaviour change strategies – such as behavioural nudges – before, during and after programs to reinforce learning and embed change.