Equipping Teams
Helping teams do their most important yet usually most neglected work: working on the team itself.
We have been privileged to be privy to the inner workings of executive and senior teams in a myriad of industries throughout the Asia Pacific region and we love the challenge of helping these teams navigate a path forward for their organisation and for the team itself.
There are two broad ways we engage with a team:
WORKING ON THE TEAM ITSELF
The delicate dance towards becoming a high performing team requires facilitation that is more than just managing process. It is about managing emotions. It requires creating a safe space and clear rules for critical conversations to flourish and more effective ways of working to emerge. This is about understanding current state, having the expertise to understand the potential future state and designing a program of work to close the gap.
WORKING ON BUSINESS PROBLEMS
This is about providing the process and the tools to effectively harness the distributed intelligence of the group to solve difficult problems. We have a number of methodologies in our toolkit, including a deep expertise in design thinking and strategic thinking, that we tailor to the problem at hand.
WORKING ON THE TEAM ITSELF
In our work with senior teams we have learned that it is very rare that a team can become high performing without careful thought, preparation and ongoing effort. It doesn't happen by accident.
Without doing the difficult, collective work of creating clarity, building connection, fostering collaboration and galvanising commitment, teams simply don't live up to their potential.
In fact, they often devolve into chaos and dysfunction. High performing teams simply don't happen by accident.
This is all the more important for executive and senior leadership teams as the rest of the organisation looks to this team for inspiration, direction and confidence.
We help senior teams do their most important yet usually most neglected work: working on the team itself.
Creating a high performing team is not a formulaic, algorithmic task. It is difficult. It is an adaptive challenge.
The upside is that it is possible. And when it happens there is a collective energy unleashed that is unstoppable, the work of leadership becomes a delight and results accelerate.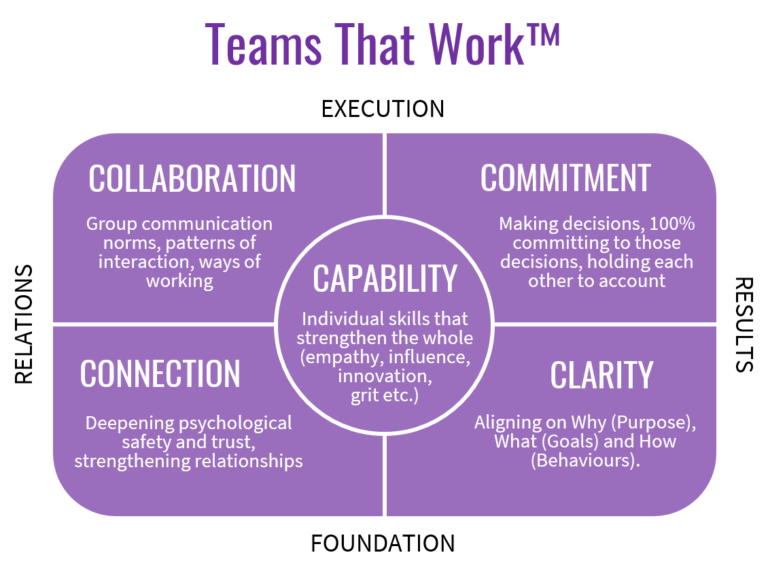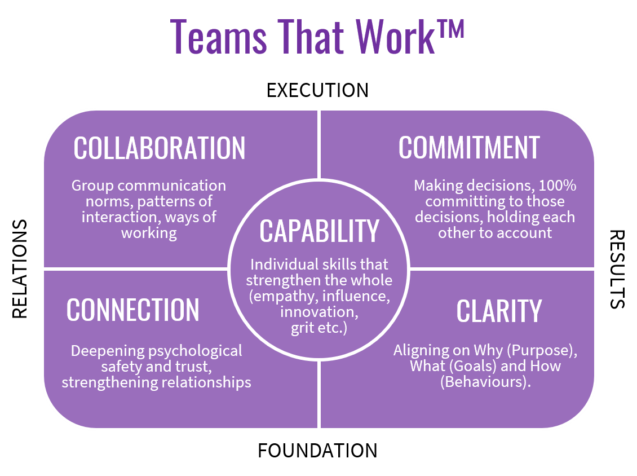 The Teams That Work™ model is how we think about the
continuous improvement loop that is necessary to ensure
a team becomes and stays high performing.
There is important work to be done in each stage.
HELPING SMART PEOPLE SOLVE DIFFICULT PROBLEMS
We are often called upon to help smart people tackle their most important business issues. Along the way clients may generate innovative ideas, solve 'wicked' problems, create new strategies and formulate plans to be executed in their business.
While every engagement is different and requires a bespoke approach, there are three things we believe to be true:
No matter how intractable or complex a problem seems to be, a solution is possible.
When harnessed properly, the collective brains, experience and passion in your team are formidable.
It takes expert facilitation to get the best out of a talented group.
Expert facilitation provides the following:
Experience –a facilitator who has worked with diverse personalities, levels of seniority, organisations, industries and cultures and so can bring new perspectives to the group and challenge their thinking.
Expertise –a facilitator who provides cutting-edge methodologies and tools will not only help smart people be more effective in their thinking during the session, but will expose the group to new approaches they can use after the session.
Energy –a facilitator who is skilled in managing the energy of a group by knowing how and when to shift the dynamics, inject humour and change the physiology of the group.